Ramblings From The Road
Dolls, Dolls, Dolls,
So many of you have asked why am I selling my theatre collection. Because I don't want to end up like Charles Foster Kane. You know in the movie, at the end, when they're in the warehouse and there are crates and crates and crates of stuff? I'm in my Quaker phase. Less is definitely more. Don't be upset, have fun with all my things and know that I am keeping a few choice tidbits for my son, when in 50 years time he'll have his own auction.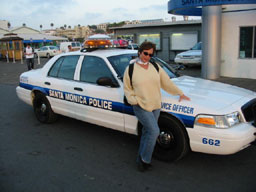 Police Woman
The auction will continue, ladies and gentlemen, until everything is sold. I have so much stuff. What was I thinking? It's like I cannot leave a theatre without taking half of it with me. There are costumes, show jackets and some pretty kitschy stuff coming up. We should all have fun during the summer and fall months... or whenever it ends... until I find Rosebud.
Restaurant Recommendations: Taverna Cretekou, 818 King Street, Old Town, Alexandria, VA 22314 Phone: 703-548-8688. I was in Washington performing at the Kennedy Center in the Spring Gala. My friends Bryan and Lindy took me to this restaurant. Very Greek is all I can say. In New York, Kings Carriage House, 251 East 82nd Street, NYC Phone: 212-734-5490. In the middle of Manhattan, who woulda thought it? I felt like I was in London in a proper Tea Room.
I don't have much to say. Actually I have a lot to say but not now. So what I'll say is bye.
Love, Patti