Ramblings From The Road
November/December, 2001
Dear Dolls,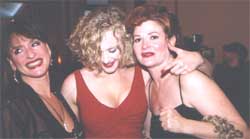 Me, Katie Finneran, Faith Prince at the Opening Night Party of "Noises Off".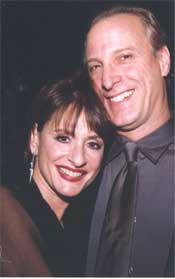 Me and my brother Bobby at the party.
It's been a long time since I've had anything to say. So much has happened. I don't even know how I feel anymore. I just come to the theatre and do my job. I go home to Connecticut, hug my husband and son, watch the news and worry. All of you be safe.
On to happier moments in my life. The picture you see on the home page is of the steamboat The Normandie. Isn't she an elegant lady? I may have the opportunity to see her again this summer, as I have been asked to sing Desiree opposite George Hearn's Frederic in "A Little Night Music" at The Ravinia Festival in Chicago. A second Sondheim role. I'm thrilled to death.
"Noises Off" turns out to be a big hit, thank God. What a wonderful group of actors I'm blessed to be working with. It is a true ensemble. I'm learning how sensitive creating an ensemble is and how tricky the sensibility of maintaining the ensemble performance is night after night. A great lesson in acting. We were in our second day of rehearsal when the World Trade Center was attacked. I saw it on TV, just like everybody else did, and I thought the first plane simply got off course, and the second plane lost it's way due to the smoke. What a shock. I am so confused. I have unpopular opinions about America's involvement in the world. I pray to God that this country finds it's way out of this. Can you imagine rehearsing a comedy amidst all this tragedy? New York is a tense place right now. Anyway.............
Happy Thanksgiving to you all. I know I have a lot to give thanks for. I'll end now.
Love, Patti