Ramblings From The Road
September, 2001
Hi Dolls,
George Hearn, Lonny Price, "Pebbles", Ben Rimalower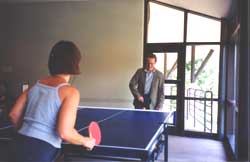 "rehearsal"

John & Mark torturing my son Josh... or is it the other way around...
The leaves are changing up here at the LayZLay. I'm depressed as hell. I went somewhere wonderful in August. The Ravinia Festival, Chicago and Lake Geneva, Wisconsin. We played our last scheduled performance of the concert version of "Sweeney Todd" at the Pavilion Theatre at Ravinia. This is a great summer festival, in a spectacular setting. We were treated like gold by the entire staff and I am grateful to Welz Kaufman and Melissa Anchon, his assistant, for the great care they took with their charges. "Sweeney" is Welz's brainchild. He was responsible for bringing it to the New York Philharmonic. I look forward to a long relationship with him.
This is also the festival that eats. I've never seen so much food in my life. Speaking of food, one restaurant recommendation: Francesco's Hole In The Wall, 254 Skokie Blvd., Northbrook, Illinois 60062 Phone: 847-272-0155. Just like my Grandma used to make Dolls. Opens at 5:30, seats about 50, and they don't take reservations.
I had a weekend off between shows and my family and I were the guests of Drs. Mike & Ruth Ramsey at their lake house on Lake Geneva. It was just what the doctors ordered. No pun intended. The house was absolutely beautiful and so peaceful. And Mike & Ruth are the nicest and most generous people. Lake Geneva is a spring fed lake. Now, I'm not a big fan of lakes. I hate those creepy crawlies in the water, and I'm not crazy about how lake water tastes. But, Lake Geneva was so clean, so blue, and tasted like spring water. In the morning, the doctors' son Tim (a frequent guest at the LayZLay, a lovely guy, my managers boyfriend, and how we got the invitation to the lake house in the first place) took us on a traditional lake boat. It's called a Streblow. It looks like the Cadillac of inboard motor boats. So cushy and comfy and roomy, just like an old-fashioned car. We took the boat across the lake to the town of Lake Geneva for coffee. How cool is that? Wake up, get in your boat and go have coffee.
Later on that day Sue & Larry Larkin picked us up on our dock for a ride on the other traditional lake boat. This one was the re-outfitted steamboat "The Normandie". Now, these steamboats used to be working boats on the lake, transporting I don't know what. However, when the gentrified class discovered Lake Geneva, they bought these boats for their personal use. According to Sue & Larry, the chauffeurs would meet the train from Chicago to Lake Geneva or the other town on the lake, take the luggage from their masters and place it on the bow of the pleasure steamboat. Their masters would then retire to the stern of the steamboat and the midships of the steamboat was converted to a galley where they were then served dinner from. Doesn't this sound like the lap of pre-taxes luxury? And according to Sue & Larry they used to race these steamboats home as well. Next month there will be no Ramblings as I will be in rehearsal, but if I get the pictures from my wonderful hosts who I can't wait to see again, Ruth & Mike, I'll post pictures of "The Normandie". I don't know how these steamboats were able to carry anything but dinner and people. They're streamlined and look fragile. It was a blissful weekend and I would like to thank my wonderful hosts Ruth & Mike Ramsey and Sue & Larry Larkin. My little boy Josh said on the way back to Chicago, "What a great time I had. Can we please come back?" He was on a jet ski for the first time and Tim took him water skiing. He did get up but got a rope burn and that was the end of it until next year.
Speaking of next year, I'm done. I gotta go. Happy Fall and I'll write next when I can.
Love, Patti