Ramblings From The Road
June, 2001
Hi Dolls,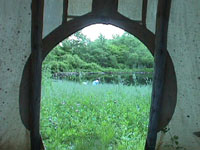 A Tipi With A View.
I have some friends over from England. We drove up Route 7 and stopped at the "Gateway to the Berkshires"... Limey's Restaurant, 650 North Main, Route 7, Sheffield, MA 413-229-9000. How apropos that I should be driving up Route 7 with four limeys in the car and come across Limey's Restaurant. I made a right hand turn so fast it made their heads spin. And wouldn't you know those limeys would not touch one iota of British fare. It was bacon cheeseburgers for the lot. On May 20 I went to Kellie Martin's class day at Yale. I have known this girl since she was 12 years old when she played my daughter Becca on "Life Goes On". I am so proud of Kellie. She graduated from Yale with an Art History degree after prolonged absences from the school for various TV projects. The ceremony at Class Day was very melancholy for me. The class song they sang at the end of the ceremony was bittersweet. If it was like that for me, what was it like for the graduating class? Kellie's winging her way back to California with her beautiful husband Keith. I'm sure we'll be seeing more of her on prime time. I don't think I have ever been more proud of a friend. Good on you Kell Bell.

I went to see "Invention of Love" with my dear friend Michael Glass. I have to say Stoppard is so far over my head, but the production and the acting were sublime. I have two NYC restaurant recommendations: District, 130 West 46th inside of The Muse Hotel and Novita, 102 East 22nd St. & Park Ave.

We were on the road again. This time to Providence, Rhode Island at Brown University and then the National Symphony at The Kennedy Center. When are we gonna stop having fun? You know, when the wind is in your sails, both on stage and off, life's great ain't it?


Josh catching
My little boy continues to play baseball, my husband continues to coach, I continue to spectate, life is good. This weekend, Josh is throwing his first party. I shall be "The Mother From Hell" to eleven 10 year olds. Wish us all luck.

We're going on vacation, camping on the beach. I can't wait!

Keep well all you Dolls. Until the next time, I'm done rambling.
Love, Patti